Manchester based HMG Paints supply masonry paint to a local initiative supporting the homeless in Manchester
Bringing a large selection of homeless charities and supporting companies together in the creation of a mural. Located on Ducie Street, Manchester, the results of the mural in HMG Paints masonry paint have been unveiled.
The mural, aptly named "The Doodle on Ducie Street," has been created to launch the International Arts and Homelessness Summit & Festival in November. The Summit aims to explore and celebrate the role of the arts in tackling homelessness around the world.
Planning and preparation day at

Mustard Tree

, Manchester
The project was completed within a week using starting with planning at Mustard Tree Manchester. HMG Paints water-based masonry paints were used throughout the project organised by Laing O'Rourke who supported the funding of the project alongside Human Appeal. "HMG were delighted to be called upon for involvement in this local project. The mural looks fantastic and portrays a really powerful message. Creating conversation ahead of the Arts and Homelessness Summit" Said Gracienne Ikin, Marketing and Communications Executive, HMG Paints Ltd.
New York activist and graffiti artist Joel Bergner headed the project
Unveiled on the 2nd of October. The mural was created by internationally renowned New York activist and graffiti artist, Joel Bergner. Joel completed the mural together with two local artists and over 30 people who have experienced or currently experience homelessness. "We began this journey 3 years ago. With the support from the community, supporting organisations and companies, large projects like these are possible. Most importantly, the participants have created a powerful message through the art on the mural. I think it represents that people who have been homeless have so much to give and contribute to the community." Said street artist and activist Joel.
Organised by With One Voice, the international arts and homeless movement founded by Streetwise Opera
Streetwise Opera aim to strengthen the sector through exchanges in practice and policy. There was an appeal for artists launched, resulting in an astounding amount of charities supporting homelessness in Manchester coming forward and getting involved. "Choosing art as our voice is for many reasons. It's about personal and societal regeneration, it's about telling a different story about homelessness, and giving a voice to people who are or have been homeless to say what they want to say to the public." said With One Voice Director & Streetwise Opera Artistic Director, Matt Peacock.
Comments from homeless participants
We talked to those involved about how this experience hes been. Ben who has previously been homeless himself, said "I personally think the way it has united all of the organisations that are out there to help the people of Manchester. It's been an amazing thing and brought out their creativity. The mural itself demonstrates the struggle homeless people face moving from the dark side of living on the streets, to the hope of the future." Ben now works at The Men's Room Manchester, who work with people with various issues from homelessness to crime.
The International Arts and Homelessness Festival runs from 12th-18th November and is free to attend with a ticket. 50% of delegate tickets will be available free to people who are or have been homeless.
HMG Paints Ltd, the supplier of the masonry paint throughout this project, is a family owned business situated in Manchester. Now the UK's largest independent Paint Manufacturer, HMG are proud to work alongside customers to create the very best individual service and tailored solutions for them. With a broad spectrum of knowledge and expertise HMG boast a portfolio including wet paint, powder coatings and aerosols, covering virtually every type of surface imaginable. This is all backed by an extensive 87 years' experience in developing pioneering coatings for a myriad of industries including; industrial, specialist industrial, automotive, commercial vehicle, defence, aerospace, wood finish, decorative, arts & craft, marine and rail, we have a drive to set the standards for the industry not just meet them.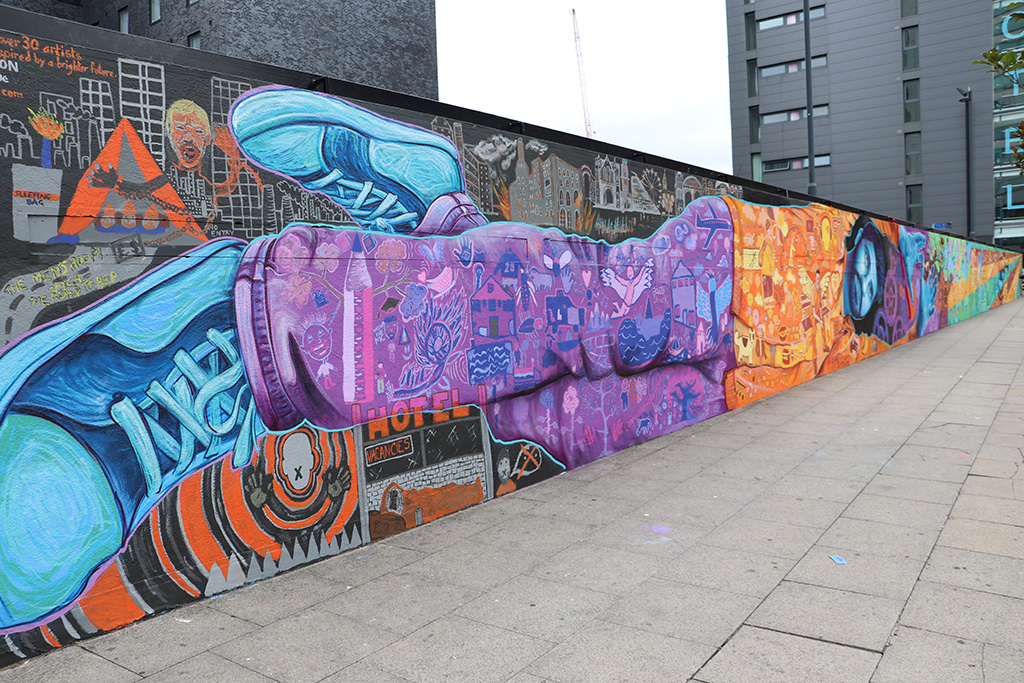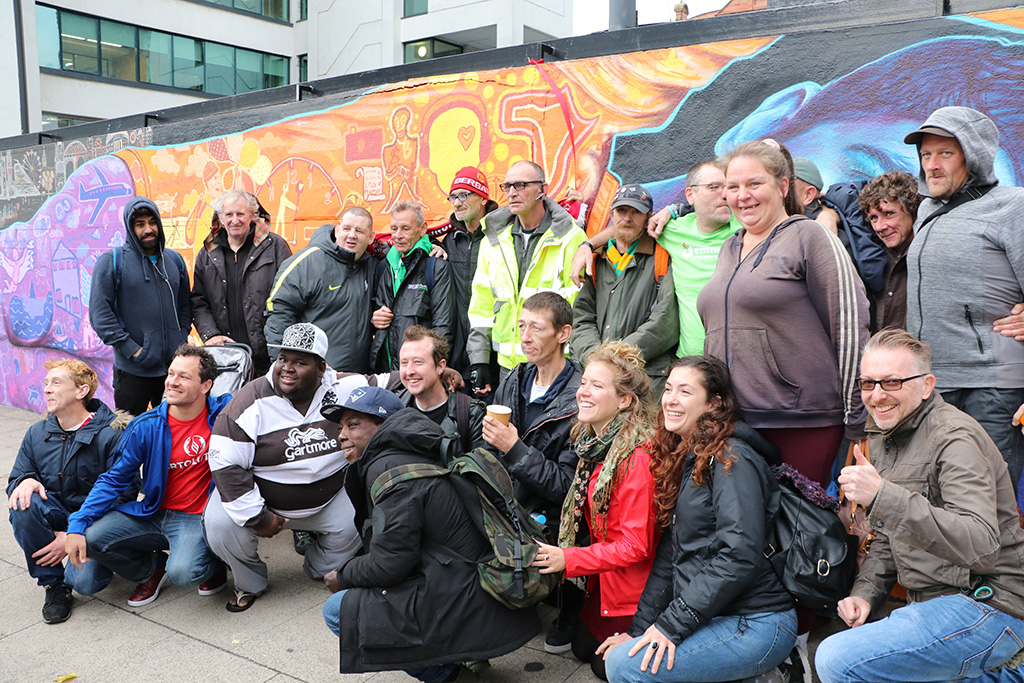 If you require further information on the press release, please contact:
Gracienne Ikin or Stephen Dyson
HMG Paints
Communications
gikin@hmgpaint.com
sdyson@hmgpaint.com
0161 205 7631